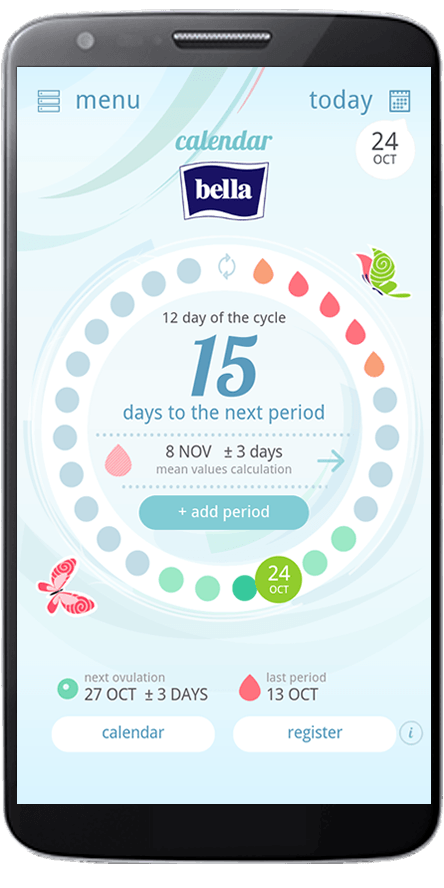 Menstrual calendar is the main screen of application. It appears every time you start an application on a mobile device.
Days countdown to the next menstruation will help you to keep track of time till the next menstruation.
Options "the beginning" and "the end" enable manual change of dates if the menstruation lasts longer, starts sooner etc.
Intuitive application layout facilitates navigation and access to all calendar functions.
Screen Calendar is the heart of application. You have full access to the information about your menstrual cycle here. Each month calendar will show you when you should expect your fertile days and next period. It also allows you to add notes and symptoms accompanying the menstruation.

Easy to read icons make it even easier to quickly identify when you will have fertile days or menstruation in a given month.

Notes is a functionality that helps to exactly describe the things related to the menstrual cycle, for example the last intercourse, gynaecologist visit, etc.
Menstruation this option allows to note all the symptoms associated with menstruation. So you will know what to expect and every next menstruation will be less surprising and annoying.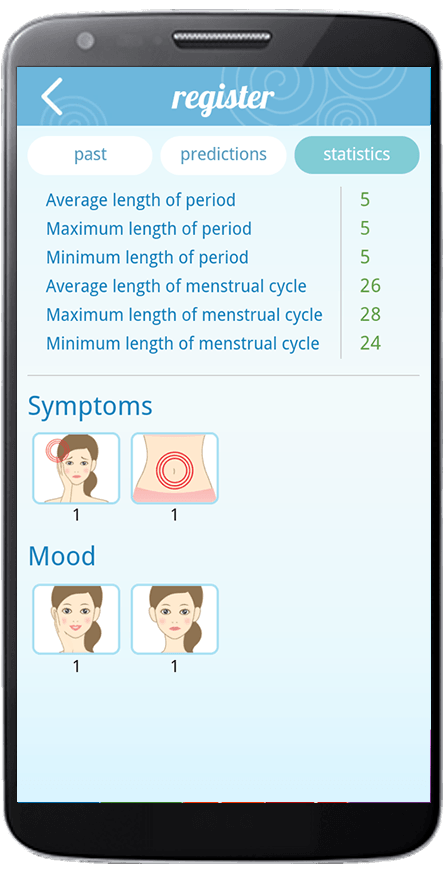 Here all data associated with past and next cycle is collected. You get an easy access to data fully describing the dates and the symptoms associated with your periods.
Past periods - history of your menses. Check when they ended and how their length were changing in recent months.
Future periods - are you wondering when your next menstrual period will appear? With this option you can check the dates of next 6 consecutive cycles.
Statistics clearly present the most important information related to your menstrual cycle: symptoms, mood accompanying menstruation, minimum and maximum duration of period and the average length of the cycle.